Edge Repair Vulcanizers | Repair Vulcanizing Press for Rubber Conveyor Belt
Edge Conveyor Belt Repair Presses, light weight, used for rubber conveyor belt edge repair. Suitable for repairs to both fabric and steelcord belt.
Description:
Edge repair vulcanizers can be used for edge-repairs. Works with all kinds of rubber belt. Restoring the edge of the belt lengthens belt life. Available in multiple voltages. Lightweight aluminum construction for maneuverability.
With automatic temperature and time controller.
Product Information:
Type of conveyor belt

Repair area

Heating plate size

Power

Pressure(Mpa)

Cotton Alum, Nylon, EP, Steel Cord Belt

250*900mm

300*1000mm

Depending on specific specifications

<0.5

250*1400mm

300*1500mm

<0.8
Material: Aluminum Frame

Repair:

Belt Edge Broken

Pressure System: Common Pressure bag (air or water pressure)

Maximum working pressure of 75 psi (5 kg/cm²)

Heating Platen Dimension:

Flexible sizes

:
300*1000mm 300*1200mm 300*1500mm 300*2000mm
200*800mm 200*1000mm 200*1500mm 200*2000mm
other sizes can make accords to order.
Heating Platen: Electric shielded resistance or silicone elements
Optional:
Silicone heating element
Manual Water pump
Specification:
Pressure Clamp Frame made of aluminium alloy

Maximum resistance to bending with minimum weight

Special for repairing rubber conveyor belt edges, extend the service life of the belting.

Works with all kinds of rubber belt, include fabric EP rubber belt and steel cord ST rubber belt.

With water cooling system

Available sizes: length 800mm, 1000mm 1200mm, 1500mm 2000mm, also can make special accords to customer's requirements

Automatic Switch Cabinet

With connecting cables (number and type depends on number and sizes of the heating platens)

Digital temperature display
Control
Compare with belt vulcanizer, it used smaller controller, also with temperature and time automatic control.
In case of electronic controller failure, manual operation is possible as well.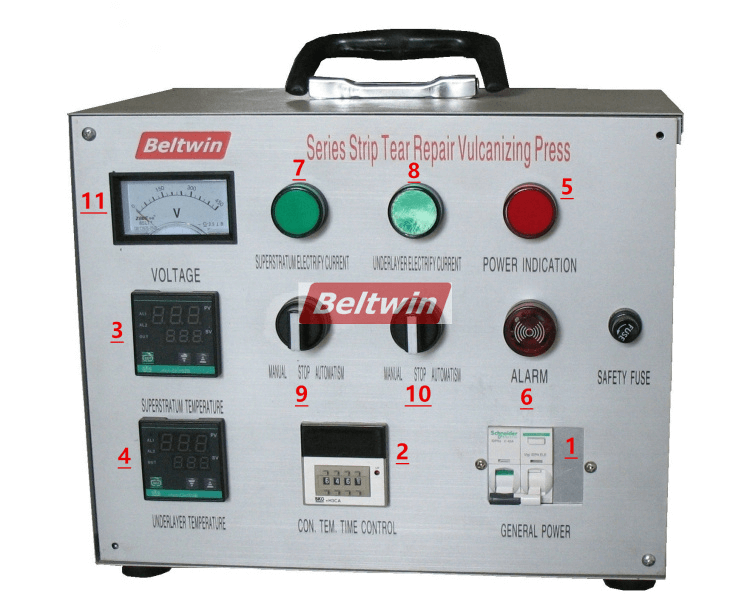 1. Main switch (circuit breaker with leakage protection)
2. Electronic type time relay (timer)
3 & 4. Temperature controllers for lower and upper heating platens
5. Power indicator
6. Alarm Indication
7 & 8. Indicating lamp of lower and upper heating platens
9 & 10. Automatic / Manual switch of lower and upper heating platens
11. Voltmeter
Feedback