Conveyor Belt Slitter with winder & rewinder and working table (European Version)
Conveyor belt slitter is designed for the longitudinal cutting of PVC/PU and rubber conveyor belts.Max up to 4000mm. Total 6pcs emergency stop switch and light curtain switch. The winders has function of left&right movement, it is easy to the belt from belt roll and rewind after cutting.
Conveyor Belt Slitter with winder and unwinder with working table
Many factories need to cut a lot of conveyor belt each days. In order to improve work efficiency, save production cost and protect the safety of machine users, they choose a higher configuration slitter machine. This European version equip electric winders to cooperation with the work of slitter machine, and ensure high quality and requirements for cutting, this type equipped with a working table. It will be more functions on this machine.
This is for heavy weight conveyor belt, we can according to the width of the slitting machine, the roller radius of the conveyor belt, and the weight of the conveyor belt, we can provide customers with different specifications of winders and machine motor.
Beltwin provides our customers a higher requirement slitter machine.
Specifications
Increase motor power of cutting parts:

It will be able to withstand heavier conveyor belts for the machine to cut.
With

protective device:

To protect hands,such as 6pcs emergency stop seitch,Anti-cutting hand laser switch.

Improve fuselage metal material and thickness to increase the load-bearing capacity.

Add air shafts on winders suit circular roller.

Including electric correction system on both winders that can move winders to left/right to keep belt be straight.

Add a working table between the machine and the winder:

To make the conveyor belt more efficient when cutting.

Integrated control: Machine control panel and winder controller on same position, easy to operation.

This solution for heavy weight conveyor belt: About 2-5tons or more conveyor belt.
| | | |
| --- | --- | --- |
| Specification | CA2000H | CA3000H |
| Belt Width | 2000mm | 3000mm |
| Belt Slitter Power | 750W | 750W |
| Winder Power | 750W | 2200W |
| Winder Load Capacity | 1000-1500kgs | 1500-2000kgs |
| Maximum Coil Diameter | 1000mm | 1200mm |
| Inspection Table Dimension | 2000*1000mm | 3000*1000mm |
| Speed | 47 Rotation/min | 47 Rotation/min |
Emergency stop switch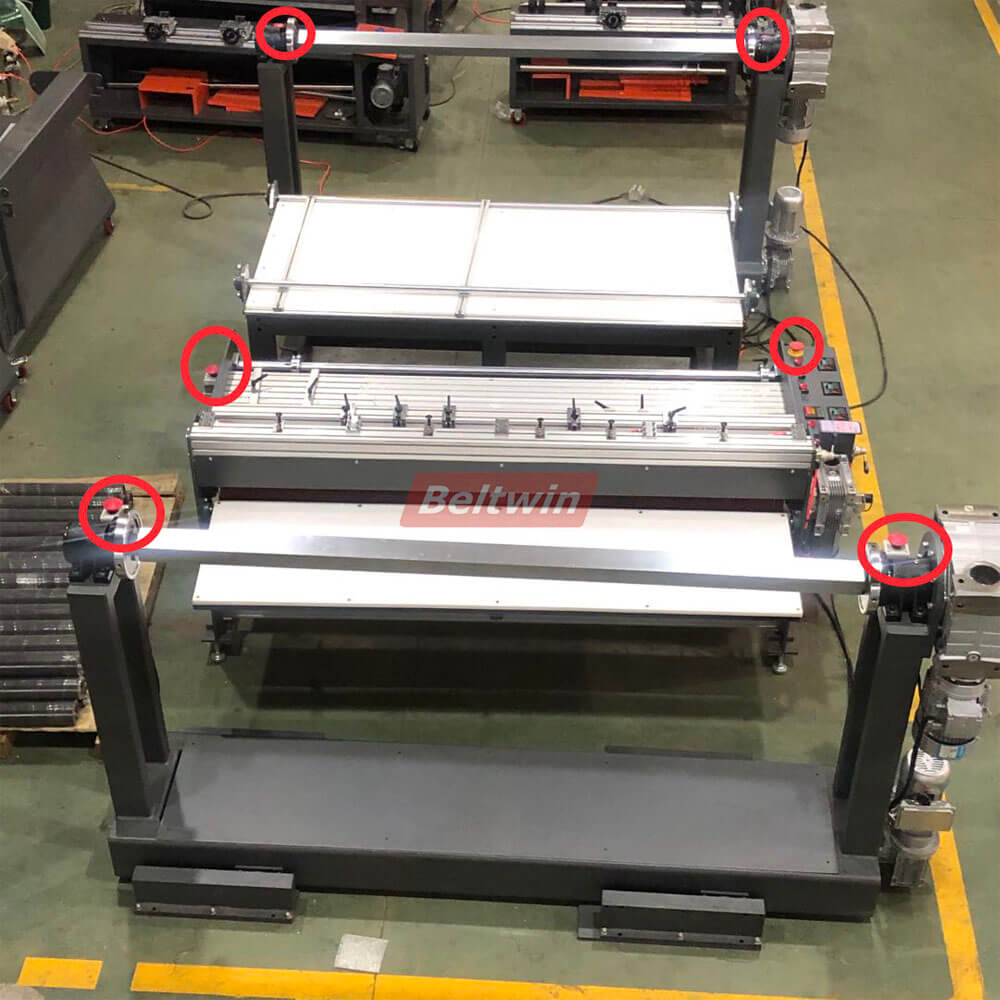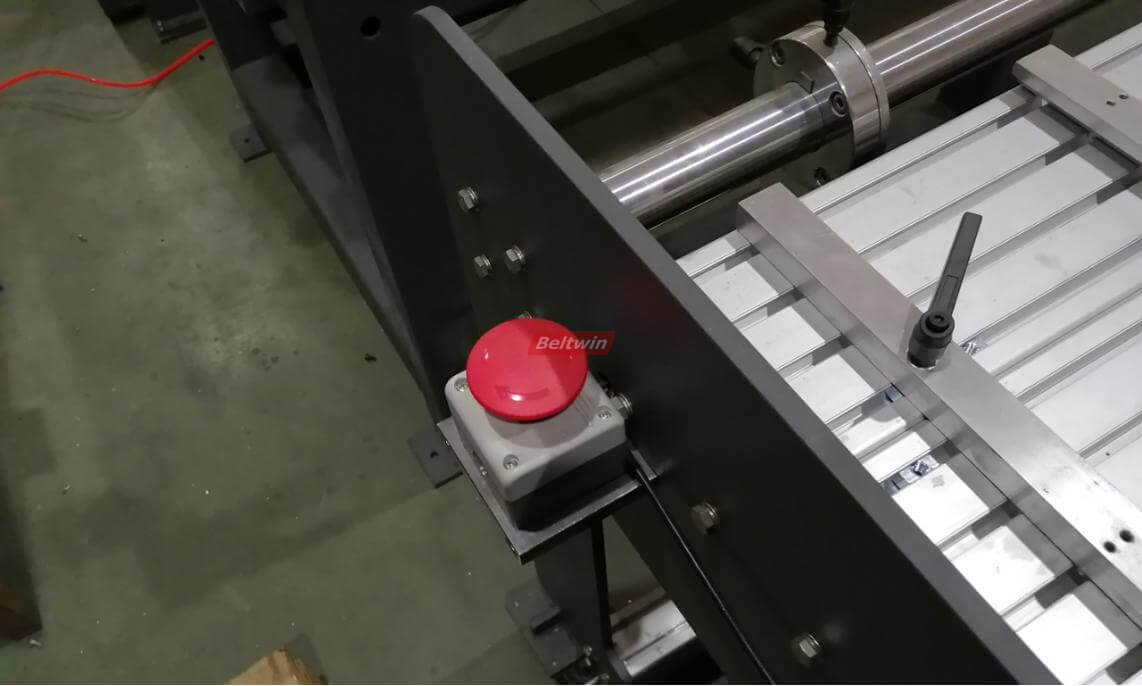 Electric Correction
Two motors, one of controls the left and right movement function.The conveyor belt may have deviation when it is placed on the winder and the electric deviation correction can be adjusted from 20mm to 30mm.Electric deviation correction saves labor for workers and solves the problem of precise adjustment when the conveyor belt is deviated.
Protective Device
A light curtain switch is installed at the blade in the working area of the machine, which automatically senses to protect the safety of users.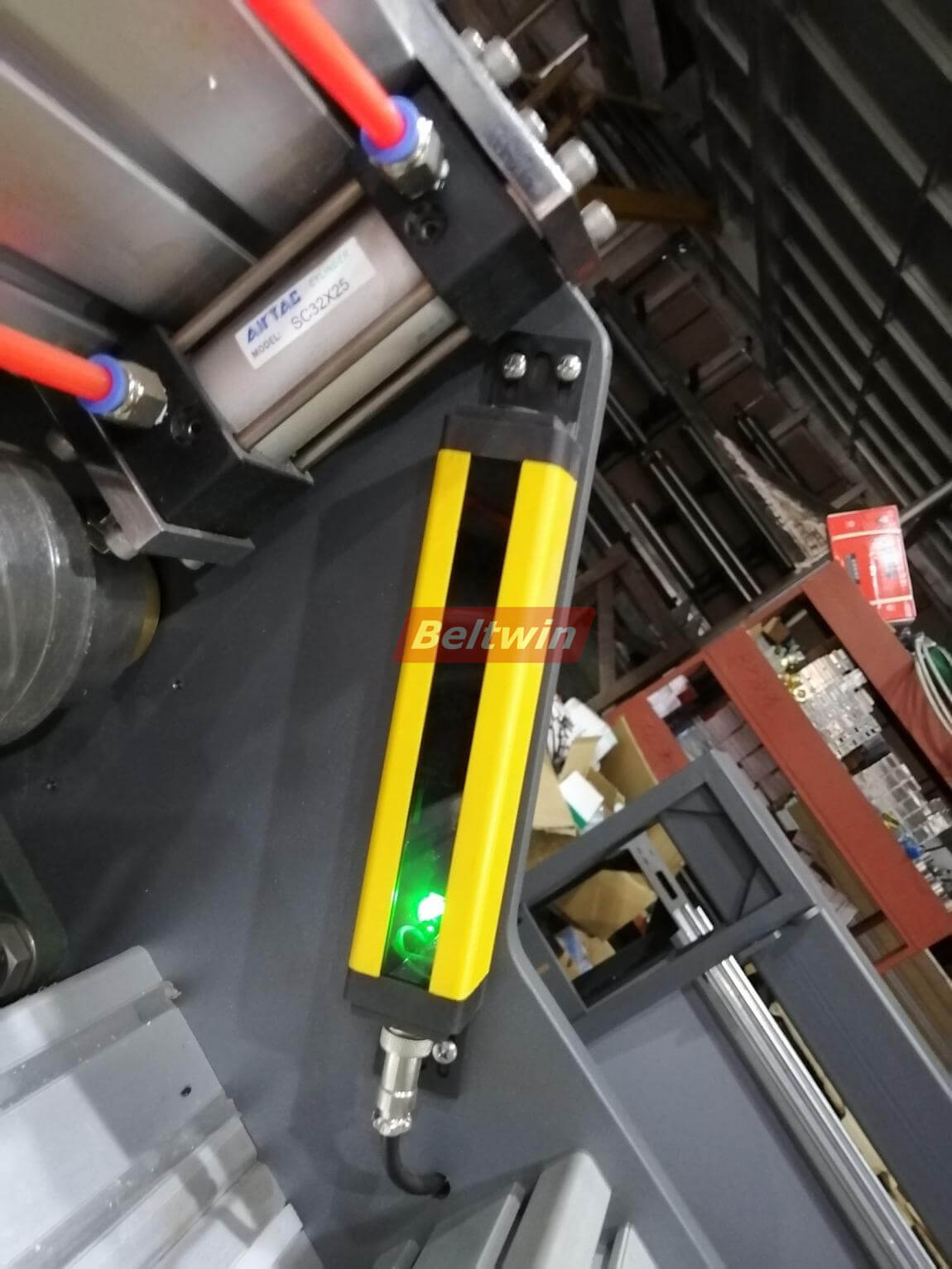 Control Panel
It has the functions of forward winder, reverse winder, speed regulation and so on.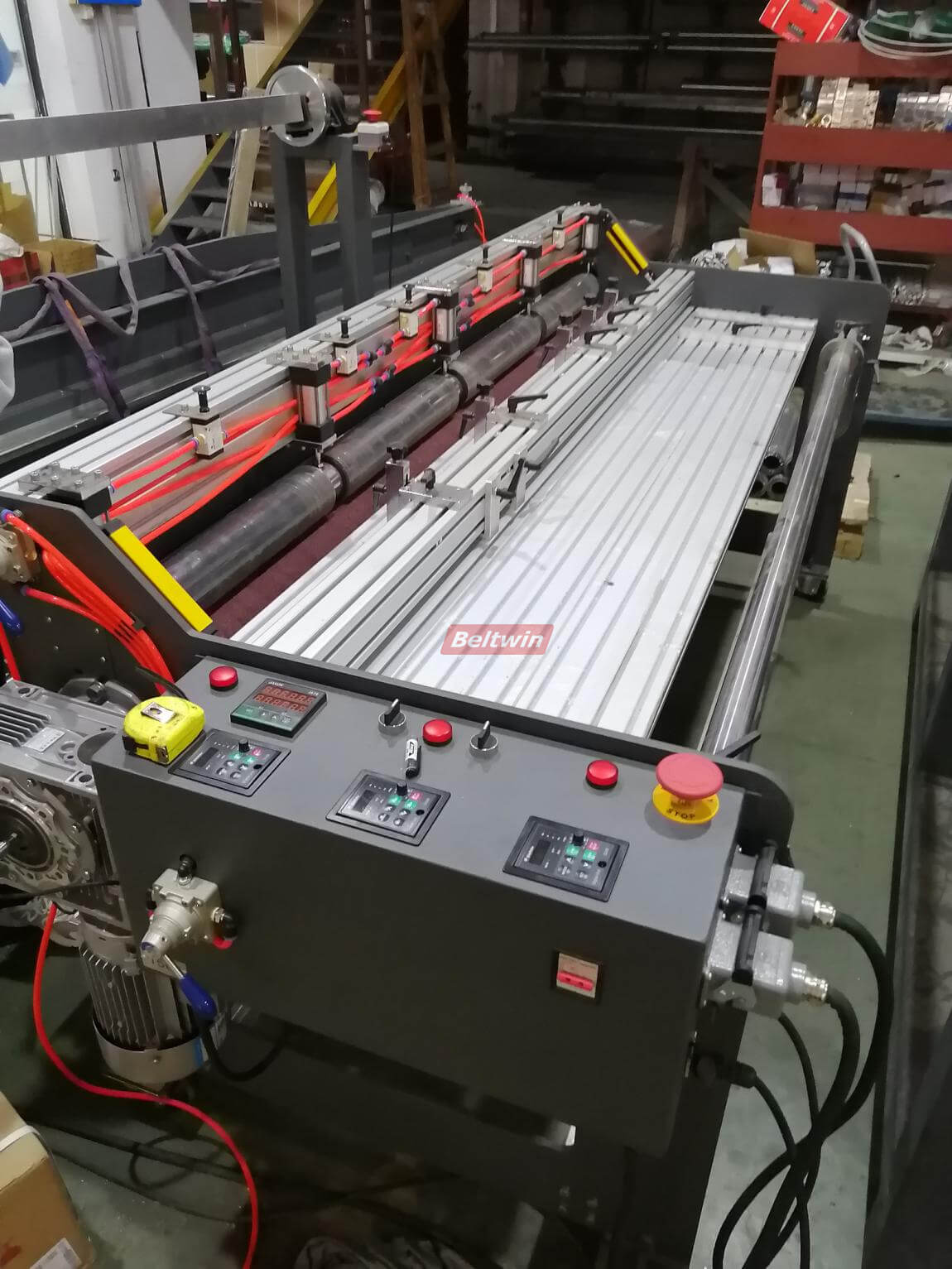 Removal And Installation Of Shaft
Simple operation, easy to install and disassemble.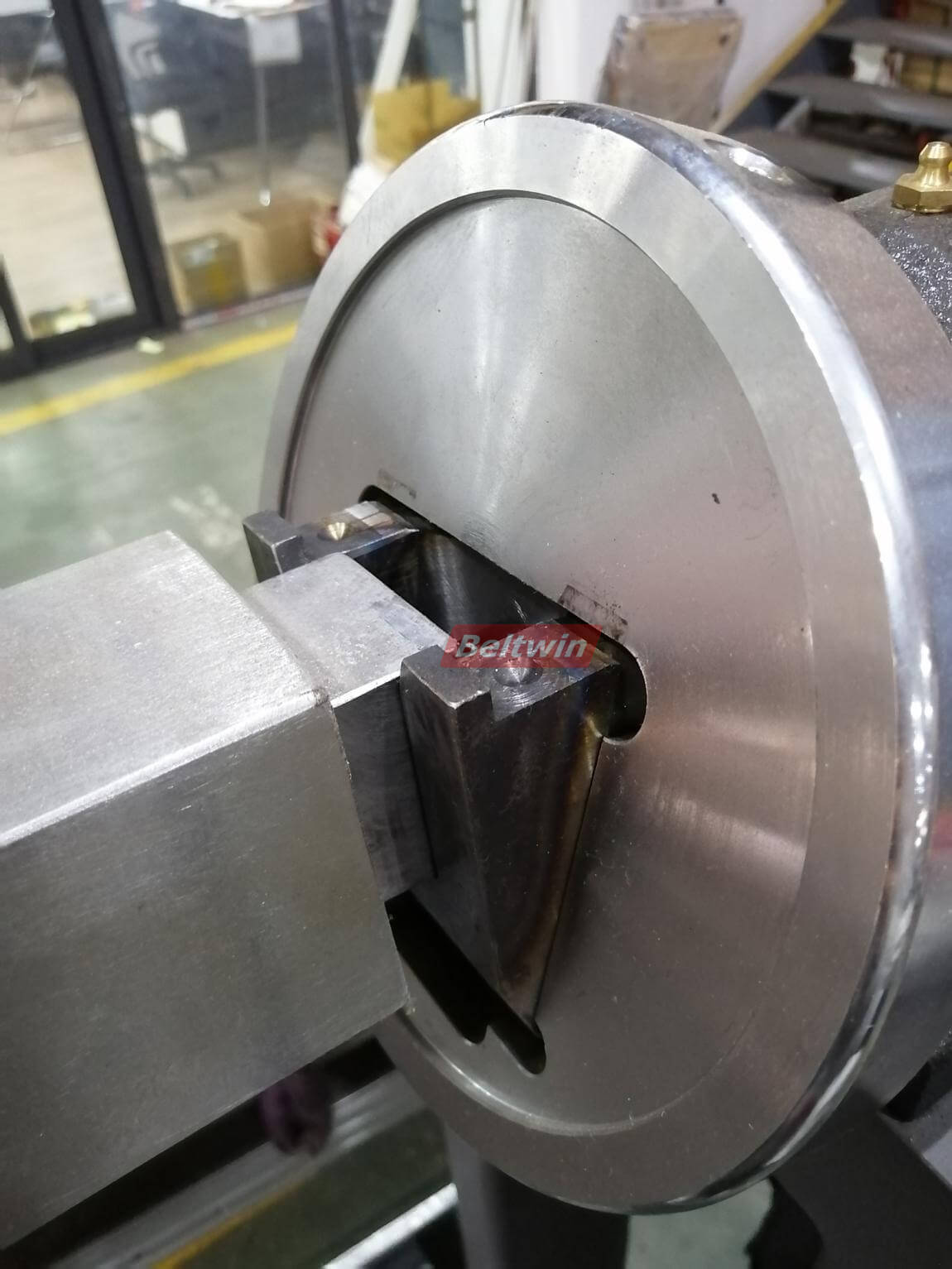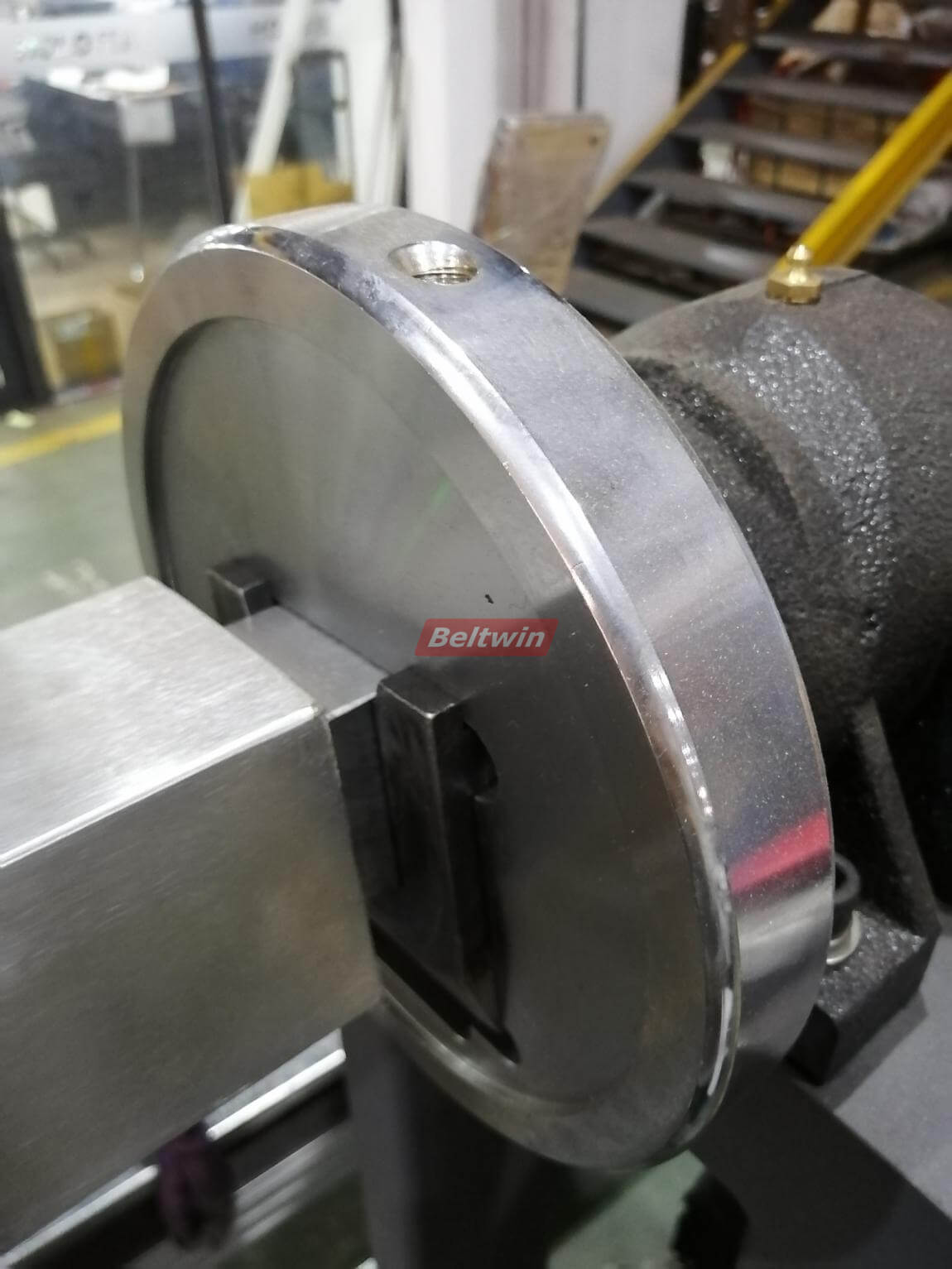 Beltwin European type conveyor belt PVC/PU Rubber belt slitter cutting machine with winder
2 Meter Belt Slitter With Winder And Rewinder
Feedback