Timing Belt Joint Machine PC100T-200T
This machine is for jointing timing belts in a ring shape.Such as T5, AT5, T10, AT10, 5M, 8M, S5M, S8M, H type, L type,T20,AT20,etc.Standard belt widths:100/150/200mm,special sizes can be customized.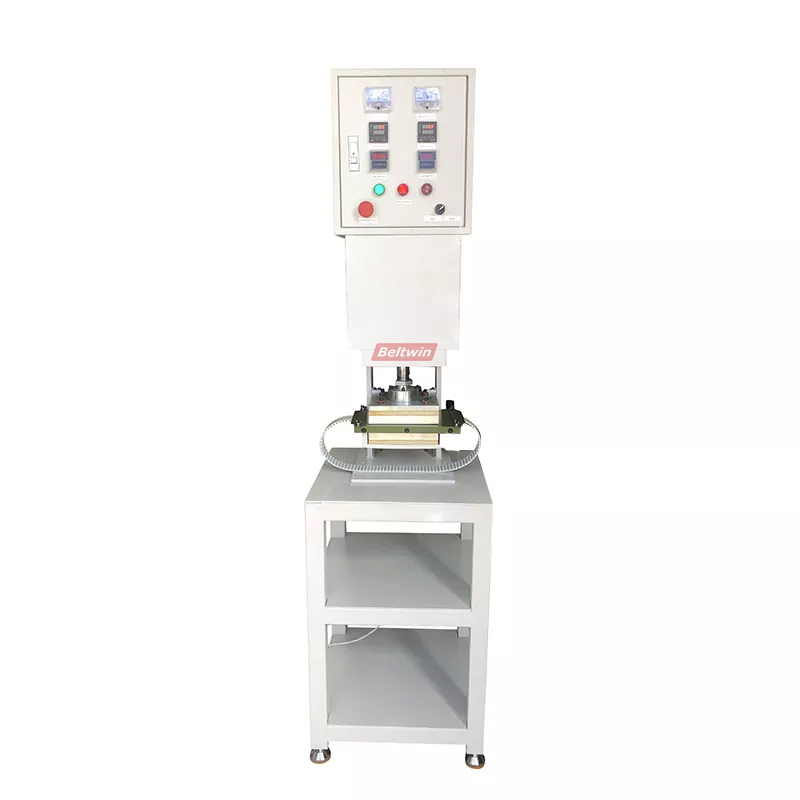 Features
Benefits

After putting the belt, no operation is required. Automatic control from heating to cooling.

The operation is simple. Workers can operate multiple machines at the same time to improve efficiency.

The machine adopt cylinder and a movable universal controller to make the pressure higher and even on the heating platen.

Keeping the upper and lower heating platen level. And make the belt thickness of joint part is uniform. High balance and high precision.

Cylinder easy maintenance and install.Keeping the working environment clean.

The welding mold is made of 718 high-quality mold steel, and the surface is sprayed with environmentally Teflon coating.

High quality of mould, the flatness of joint belt is high. And the Teflon spraying process is maintenance-free and can prevent the belt from sticking to the mold.

Welding mold can choose "Adjustable Width Design"

Suitable for belt of various widths. For example, one mould can used for belt with a width of 25-150mm. Reduces cost investment.
Technical Datasheet
Model
PC100T
PC150T
PC200T
Max Belt Width

100mm

150mm

200mm

Heating Platen Size

150*200mm

200*200mm

250*250mm

Joint Mold Size

120*260mm

170*280mm

220*300mm

Min Belt Perimeter

600mm

700mm

800mm

Pressure System

Welding Pressure provided by pneumatic cylinder

Temperature Range

50-230℃

50-230℃

50-230℃

Pressure

6bar-8bar

6bar-8bar

6bar-8bar

Voltage

220v

220v

220v

Power

4.5kw

4.5kw

4.5kw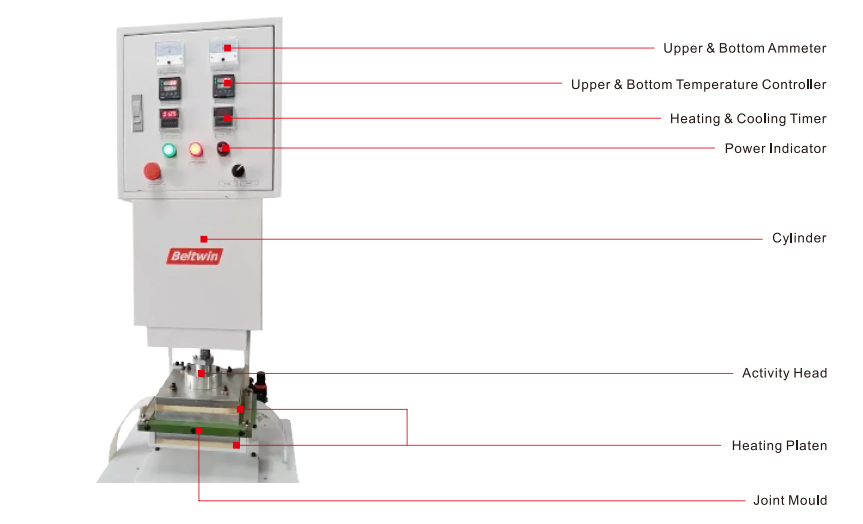 Standard Cooling
Standard machines can be connected to water pipes. The machine is equipped with an electromagnetic valve, which automatically controls the water outlet when it is cooling, and automatically stops the water when it reaches the cooling temperature.

Optional
Self-Circulation Water Cooling System.

With cooling water circulation, add stainless steel water tank and water pump. Connect the machine to achieve water circulation cooling and work longer.
Timing Belt Jointing Mould (Belt width adjustable)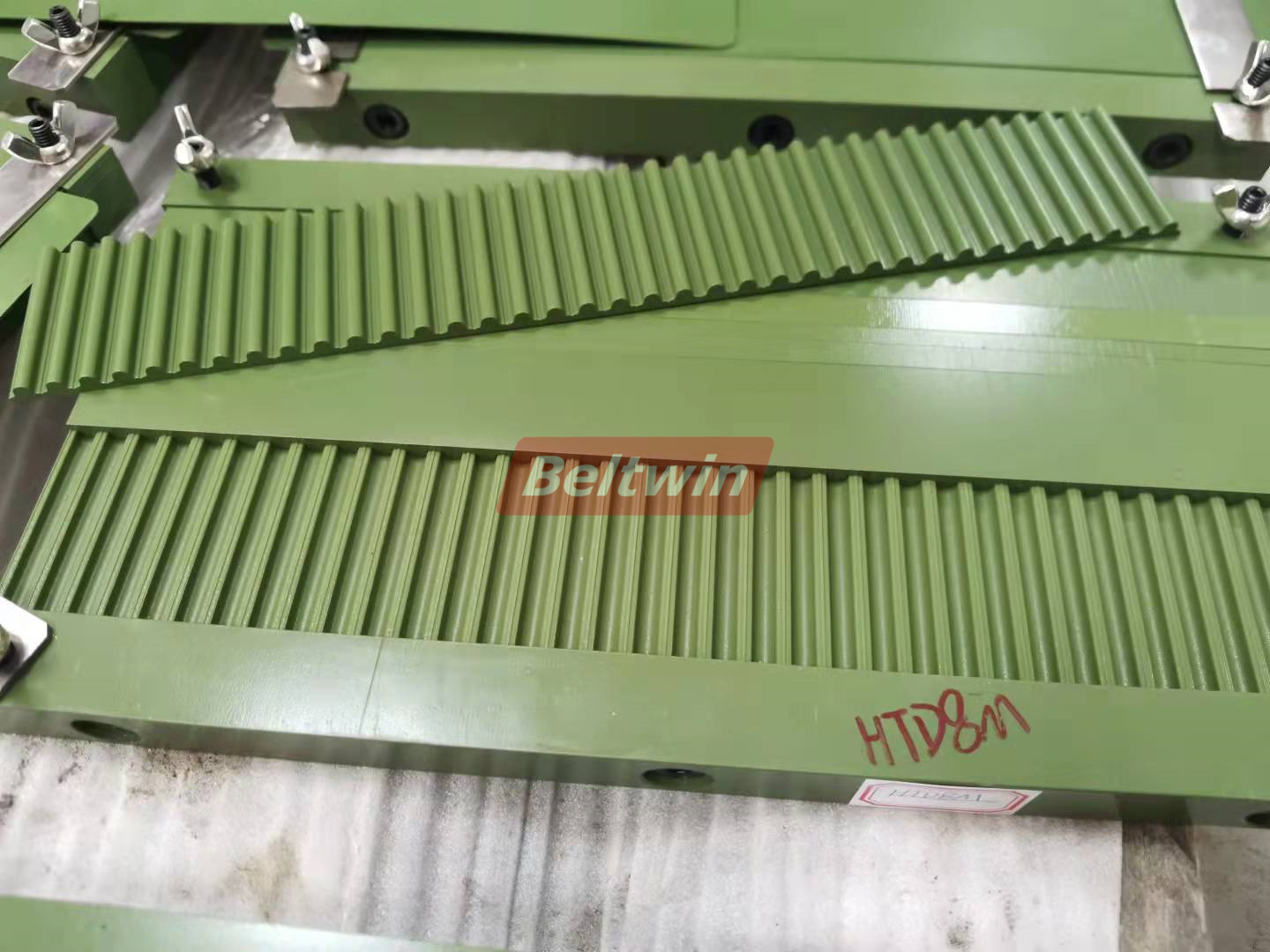 ---
Timing Belt Joint Processes
1.Make fingers on timing belt by timing belt finger punching machine.
If you have interesting to this punching machine ,please click here: Timing Belt Finger Punching Machine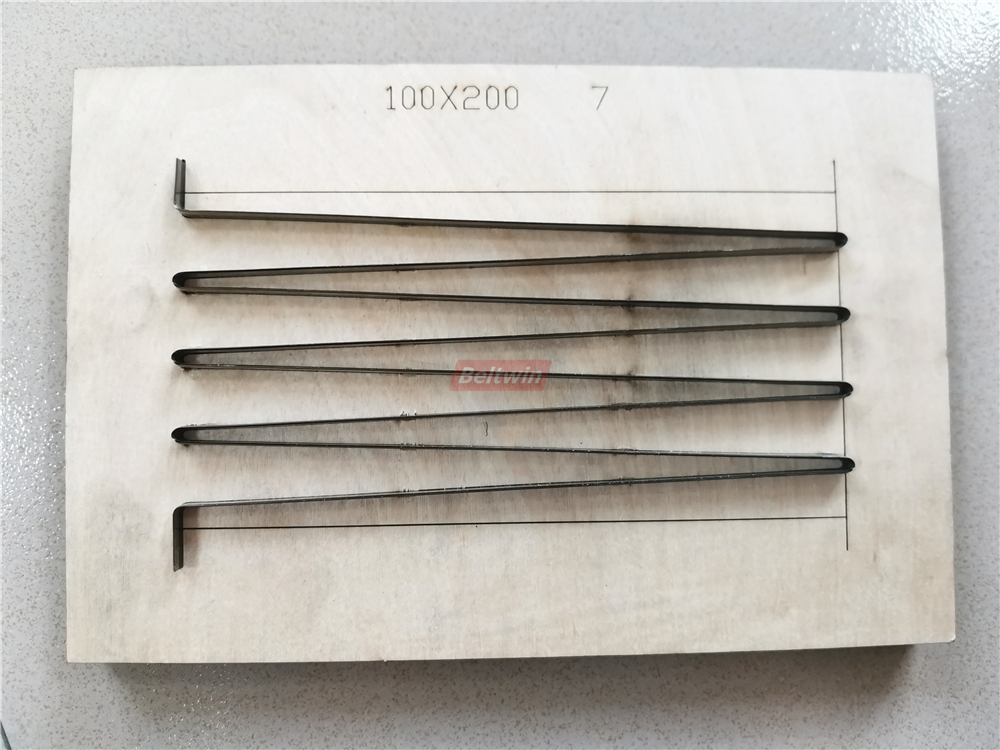 ---
2.Put belts in the welding mould and match the belt fingers.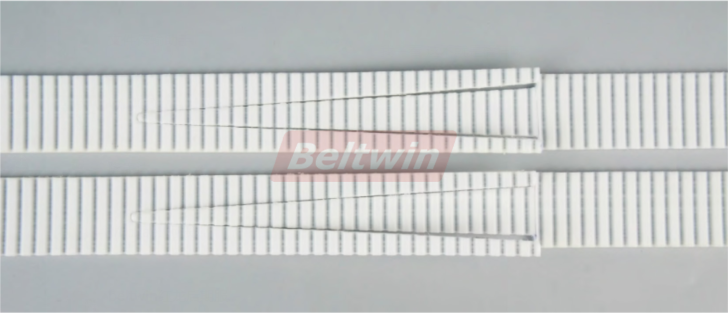 ---
3.Put welding mould into heating platen and make belt jointing.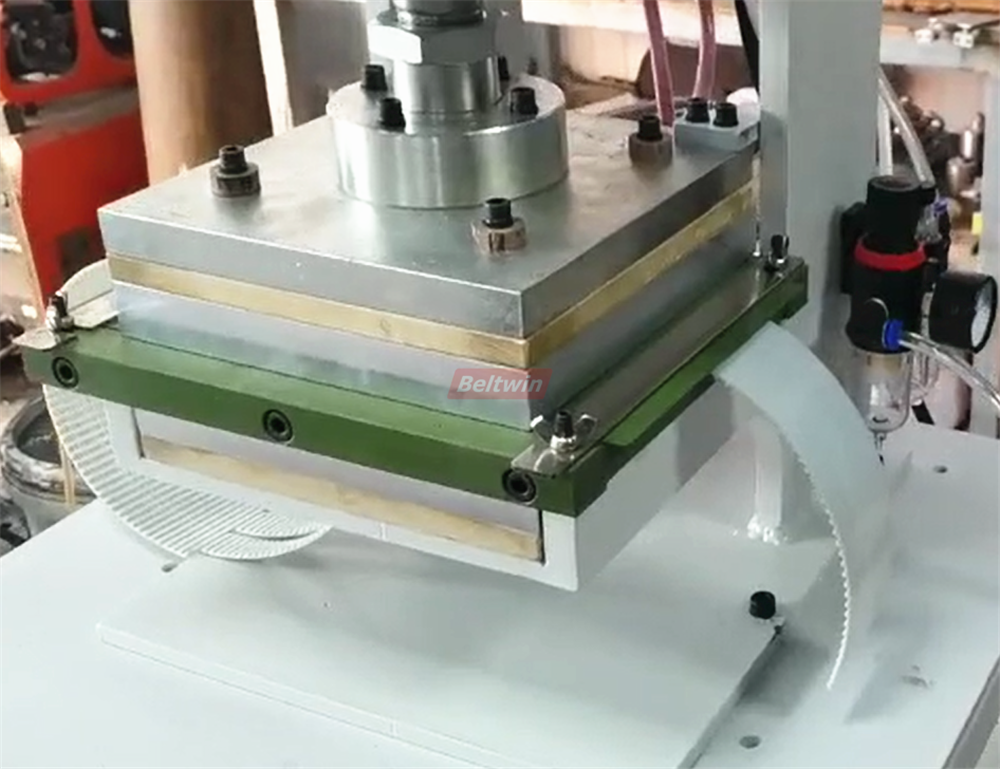 ---
4.After heating process finish, can get the finished timing belt.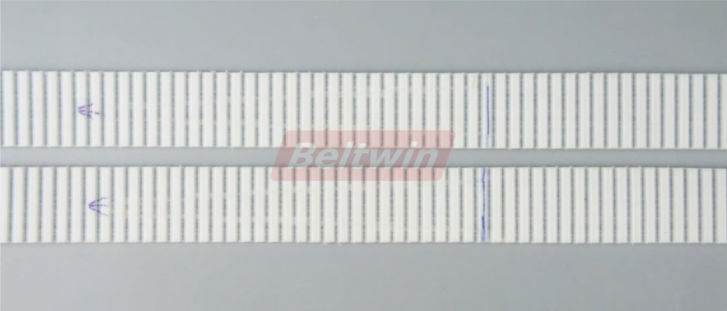 ---
Packing Photos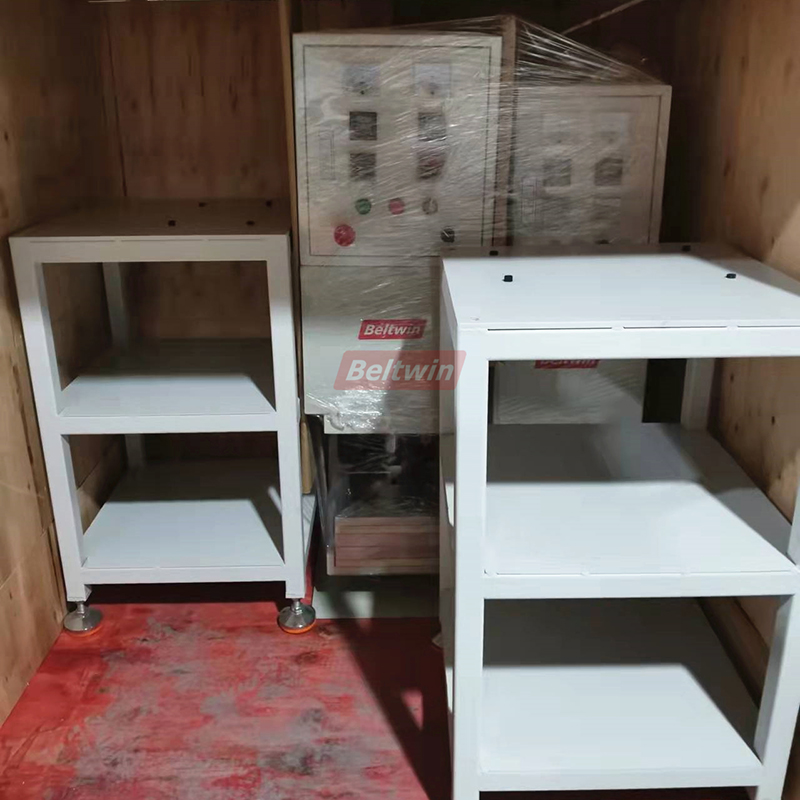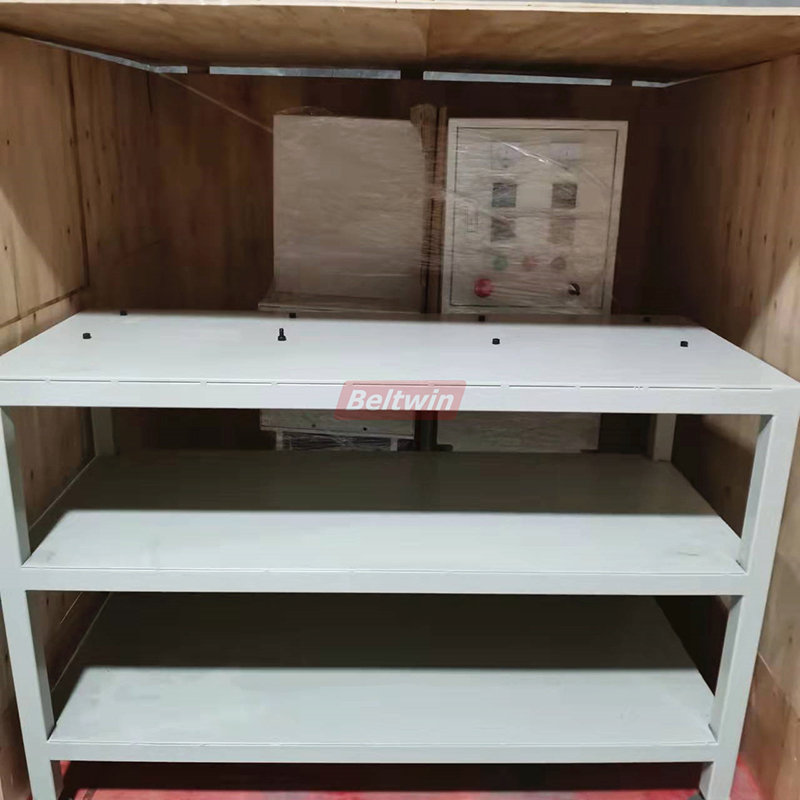 Question: Why would the PU timing belt jointing is easy to break ?
Answer: According to the structure of timing belt, the steel wire core or wire core will be effect to the strength layer.
For more details, you can check this article:
https://www.beltwin.com/articles/analysis-of-the-reasons-why-the-pu-timing-belt-jointing-is-easy-to-break
Beltwin Timing Belt Joint Machine
Feedback